10 Best Golf Courses in Hanoi 2023
Hanoi has been a popular destination for travelers and tourists. The city is rich in history and culture and has a lot to offer visitors. For golfers, Hanoi provides some of the best golf courses in Vietnam. Here are some of the best options for you to choose from.
Hanoi is a city with a lot of beautiful places to visit. One of the most popular places in Hanoi is the Old Quarter. This area has been around for hundreds of years. The area is full of shops, restaurants, and markets. This is an indispensable destination in every Hanoi city tour program.
If you are a golf lover and up for a real treat. Hanoi, the capital of Vietnam, boasting seven golf courses can be any golf lover's paradise. Let's have a look at these golf courses in Hanoi.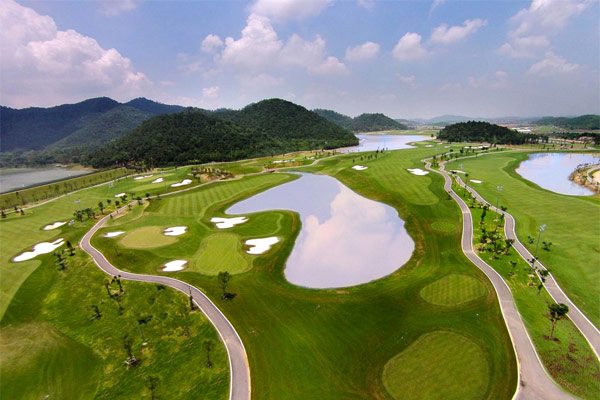 BRG Legend Hill Golf Resort was the first golf course in Vietnam built by Nicklaus Design (US), which was founded by the world-famous golfer Jack Nicklaus. It deserves one of the first choices for the most beautiful golf courses in Hanoi. This golf course was built in the year 2015 and spreads over an area measuring more than 7000 yards. This is located in the northeast part of Hanoi, in the beautiful mountainous region of Soc Son, and is almost 20 minute's ride from the airport.
The golf course is built on the "twin greens" concept and was both inspiring as well as challenging for the Nicklaus Design team. BRG Legend Hill Golf Resort is one of a kind and provides golfers the unique experience of playing in an 18-hole golf course and 36 green complexes, offering the maximum variation in the entire of Vietnam. With the mountains around, the palm trees lining the golf course and resort, the system of yards, and waterfront bodies, everything seems in a harmonious amalgamation that resonates with a very natural landscape, yet provides a challenging variation for the golfers.
This is the 2nd ground that golf lovers must visit while in Hanoi. Designed in 2002 by Ahn Moon Hwan, the arena complies with the requirements according to the PGA standards. It is an 18-hole golf course that allows getting a panoramic view of the entire Hanoi. The golf course is divided into two parts where the members have to play for a championship while the non-members can only in the Sky Course.
This golf course has been one of the most famous areas for playing golf for a long time. The uniqueness of this golf course is that it has two modes or types of course that are spread over 350 hectares of land and 1500 hectares of waterfronts. The players can choose between the Lakeside and the Mountain-view side. The former was designed in 1993 by Robert Mcfarland and is a beautiful ground with a 36-hole, 72-par stretch. The mountain-view side, on the other hand, is a wooded 18-holed, 72-par arena. This was designed by Pacific coast developers (PCD) and is located in Vietnam's Ethnic Culture and Tourism Village. The vastness of the course and the different levels of difficulty will provide an excellent time for golfers while playing here.
4. Thanh Lanh – Serena Valley Resort Golf & Club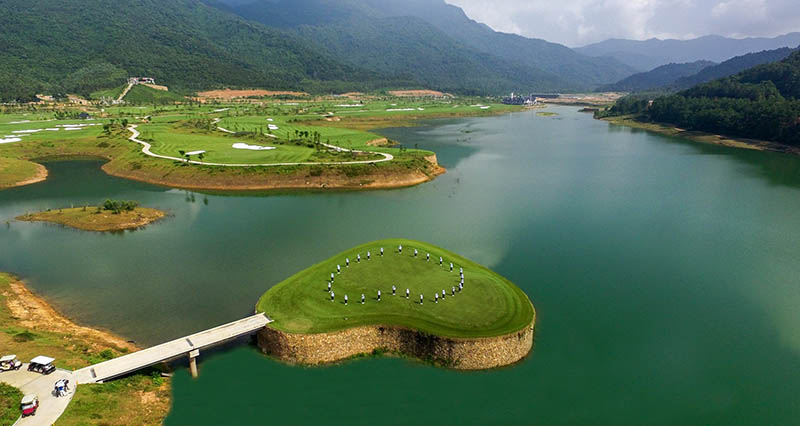 Thanh Lanh Valley Golf & Resort (Serena Valley Resort Golf & Club) located at an altitude of 1,000 meters above sea level, has a cool climate all year round, with an average temperature of 18-25 degrees Celsius. This course is about a two-hour drive from Hanoi. A bypass road connecting Tam Dao, Thanh Lanh, and Dai Lai golf areas make several excellent golf clubs easily reachable.
Thanh Lanh Golf Club is a Vietnam masterpiece of famous designer Sir Nick Faldo. Nick Faadlo and his team incorporated the local natural terrain of Thanh Lanh Lake and the surrounding valley of the Tam Dao mountains. At Thanh Lanh, golfers play distinct sections, including water surrounded, hillside, parkland, and a short section of Links golf. A peninsula over Thanh Lanh Lake houses the most specular holes. Returning nines both play out and back and share in the beauty of the site. The finishing holes play along the lake's shoreline to the clubhouse with a magnificent mountain backdrop.
Faldo incorporated natural streams and contours to create interest and variety in shotmaking. And while the course can stretch to more than 7,000 yards, five sets of tees and generous width make sure the course is playable for golfers of all abilities.
Each golf hole at Serena Valley Golf Resort & Club has its own outstanding features that impress golfers.
Hole 2 par 5 has a fairway to the green with a slight slope, surrounded by long rows of bunkers.
Hole 4 toward the island is considered the best view with bunkers and trees behind the green. This hole also has an independent extra tee on the island.
Hole 6 Par 5 is bouncing up and down continuously, creating great challenges for players.
Hole 14 par 3: This is the shortest par 3 hole at Thanh Lanh golf course, hitting a heart-shaped oasis with a view of the Clubhouse and the hotel in the area.
Hole 15 Par 4 is extremely challenging when there are two fairways, 2 bunkers and players have to put the ball over the water hazard.
Hole 18 Par 5 is considered the most beautiful hole on the course. From here, golfers can view the club building and take in the eyes of the white fairway and the beautiful 2-color green grass that leads to the green.
The Serena Valley Resort clubhouse resembles a middle-aged castle looking out over the finishing holes at Thanh Lanh. Modern elements such as accent lighting, well-stocked VIP areas, and a complete pro shop are included but hidden from the external view. Private resort villas are behind the clubhouse and available for rent on both short and long-term tenures.
5. Phoenix Golf Resort
Phoenix Golf Resort is located 40 kilometers north of Hanoi in an area referred to as "Halong Bay on Land". The view from the course and clubhouse is spectacular as the limestone outcroppings which frame and come into play on many of the holes resemble those most people only expect to see in the famous Halong Bay. The 54-hole Phoenix Golf Resort is the largest pure-play golf facility in Vietnam and the second largest in Asia, only after Mission Hills China.
Designed by Ronald Fream, each of the three courses at Phoenix Golf Resort makes use of severe fairway and green undulations as well as clever routing through and around the unique-looking limestone cliffs. Additional Japanese and Korean design inputs ensure that the surrounding environment is both well-protected and stunning at the same time. The three courses are named Phoenix, Dragon, and Champion Courses
The huge European-styled clubhouse is on-site with the intent to offer every modern convenience to those Hanoi golfers making their way to Phoenix Golf Resort. Unfortunately, despite the use of imported materials the facilities fall short due to a lack of maintenance, poor staff service, and a general feeling of incompleteness. Therefore, it is recommended to golf and get back to Hanoi before enjoying any after-round relaxation, food, or entertainment.
Van Tri Golf Club is the first privately-owned golf club in Vietnam and is situated about 4 km from Hanoi through the Noi Bai Highway. This golf course was built way back in 2007 by the designer Peter Rousseau. Since this is a privately owned club, it has all the amenities suited to private members' tastes with international cuisines in the clubhouse and high standards of service. However, this golf club membership is just restricted to 400 members. Because of its characteristic of ownership, Van Tri Golf Club is ideal for all levels of golfers who would like to spend some time alone with their friends, family, or business associates.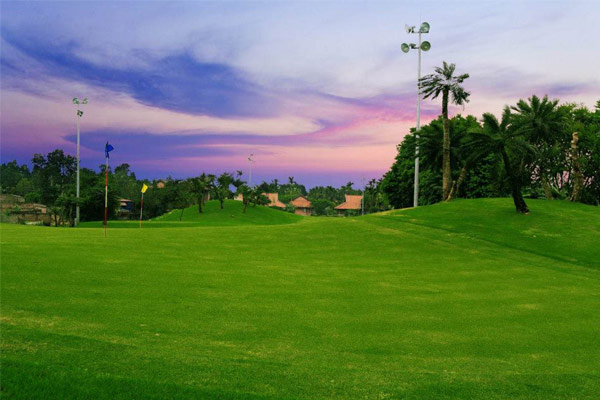 ASEAN Golf 24h is built within the ASEAN Resort and Spa and is a 330-minute drive from the city center. This golf course, built over an area of 5 hectares, is a 9-hole golf course, with 8 par-3 holes and 1 par-4 hole. The golf course provides quite a challenging spread for the golfers and helps them have maximum swing using wooden sticks. This is a world-class golf course with a host of services and amenities ranging from tee boxes, fairways, bunkers, and different types of traps to increase the challenge for the golfers. It has the perfect lighting system which helps the golfers have a unique experience.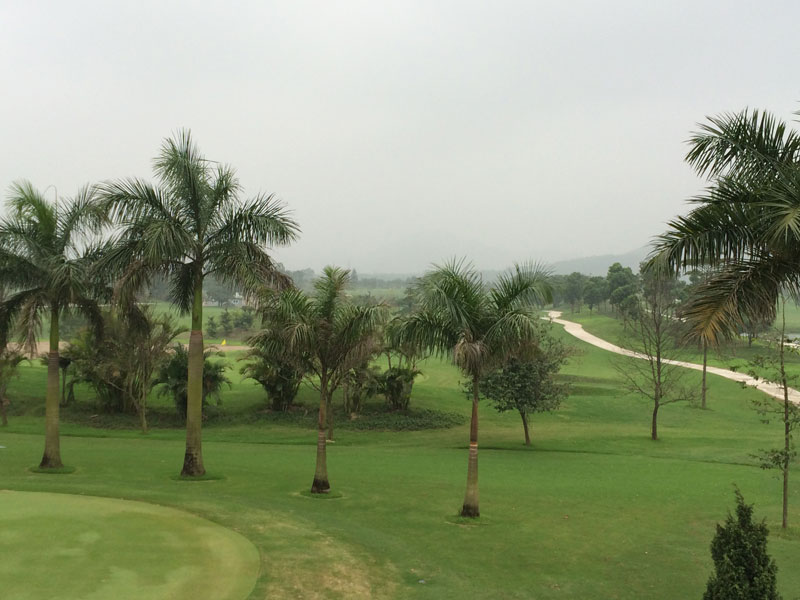 Built in 2006, Hanoi Golf Club is one beautiful golfing area and is situated near Noi Bai airport, making it one of the most easily accessible golf courses in Hanoi. It is also the only course a Japanese designer builds by Susumu Fujiwara. The area was developed with a lot of care and technicalities and provides the player with flexible spaces while playing golf. It is an all-season course which means that you can visit this place in any season to play golf.
The 2014-built golf course by Nelson Haworth is one of the most popular grounds in Hanoi that is known to attract many professional and amateur golf lovers year around. The ground is designed very carefully and the landscaping is fantastic. It won the award for being the most beautiful ground in Vietnam as well as the entire of Asia. If you love to play golf, be sure that you visit this ground.
So if you want to spend a luxurious vacation and punch it with some golfing activities, Hanoi is the place that offers you plenty of choices. Make sure to be in the right place at the right time to never miss out on any fun.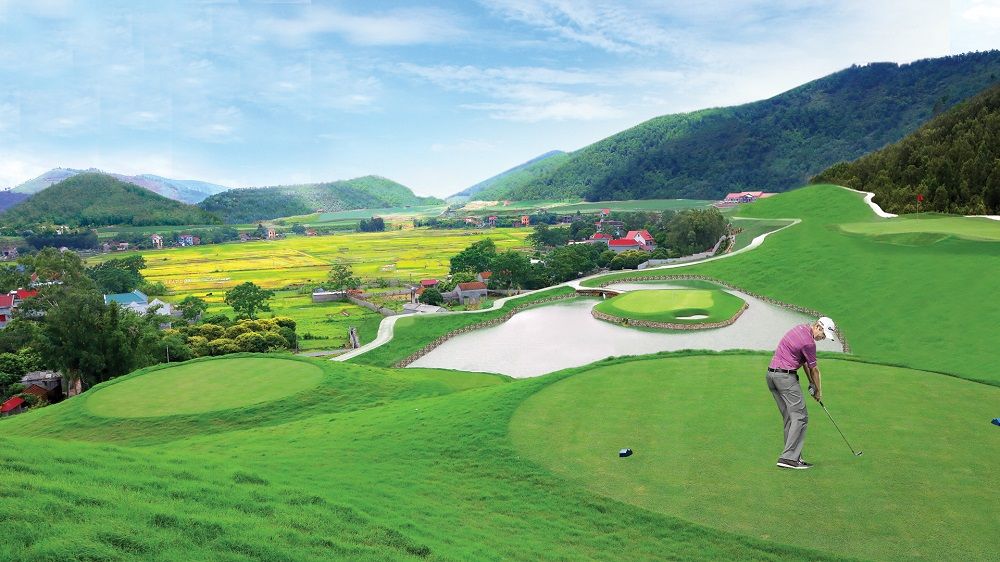 Amber Hills Golf & Resort
Located in Tien Phong commune, Yen Dung district, Bac Giang province, 50 km drive from Hanoi, Amber Hills Golf & Resort has become an ideal destination with the leading golf course and luxurious resort in Vietnam.
Expanding 190 hectares, the 36-hole golf course is constructed in 2 phases. The first phase of the 18-hole Hillside course has operated since August 2017 and the second phase of the 18-hole Rock Valley course will be constructed in the near future.
Designed by Albanese & Lutzke – the leading American Golf Course Design and Construction Management Company, the hidden charm of the Nham Bien mountain range has been awakening. The architects have created a variety of golf holes by making the most of the natural downhill slopes with ingenious arrangements of bunkers and water hazards. Each green tee has a unique view that brings different emotions to golfers. Your heart is filled with satisfaction when conquering these challenging golf holes and enjoying the peaceful beauty of a northern-featured countryside village under the foothills.
Coming to Amber Hills Golf & Resort is also to enjoy a system of modern bungalows and villas under construction in the heart of the golf course. Each bungalow and villa is a true work of art with light and space, uniqueness and creativity, and nature and man-made structure.