15+ Best Golf Courses in Vietnam for 2023
Vietnam is one of the world's up-and-coming golf destinations in Asia. Here's the list of 15 Best Golf Courses in Vietnam for golfers in their Vietnam golf holiday.
Best Golf Courses in Vietnam
The number of golf courses is increasing in Vietnam nowadays with several improvements in their quality. Unique culture, long-lasting history, spectacular scenery and high-end golf courses – Vietnam is a new destination for golfers. This article provides you with our best 15 golf courses.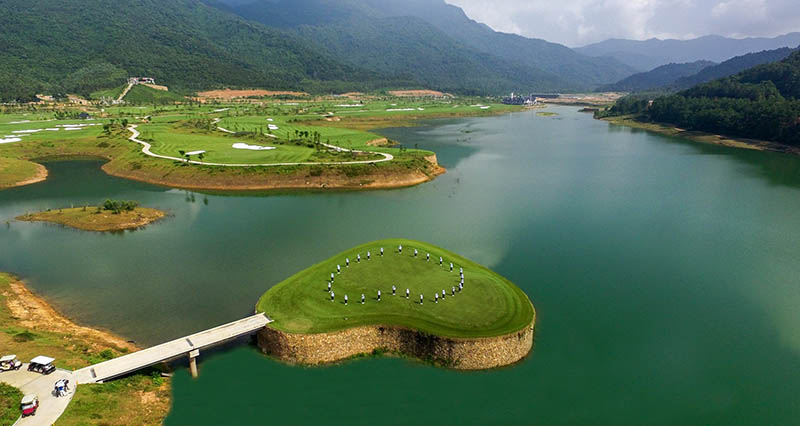 Thanh Lanh – Serena Valley Resort Golf & Club
Thanh Lanh Valley Golf & Resort (Serena Valley Resort Golf & Club) located at an altitude of 1,000 meters above sea level, has a cool climate all year round, with an average temperature of 18-25 degrees Celsius. This course is about two-hour drive from Hanoi. A bypass road connecting Tam Dao, Thanh Lanh, and Dai Lai golf areas makes several excellent golf clubs easily reachable.
Thanh Lanh Golf Club is a Vietnam masterpiece of famous designer Sir Nick Faldo. Nick Faadlo and his team incorporated the local natural terrain of Thanh Lanh Lake and the surrounding valley of the Tam Dao mountains. At Thanh Lanh, golfers play distinct sections, including water surrounded, hillside, parkland, and a short section of Links golf. A peninsula over Thanh Lanh Lake houses the most specular holes. Returning nines both play out and back and share in the beauty of the site. The finishing holes play along the lake's shoreline to the clubhouse with a magnificent mountain backdrop.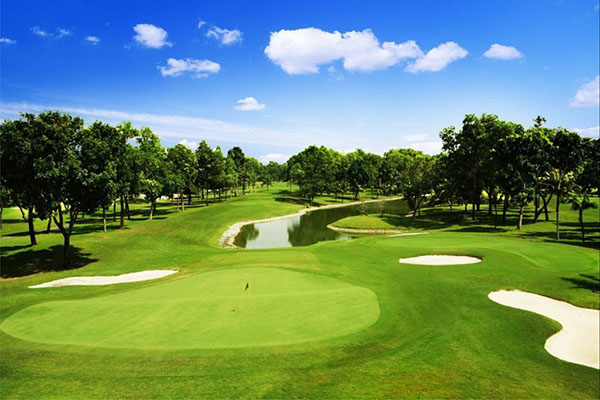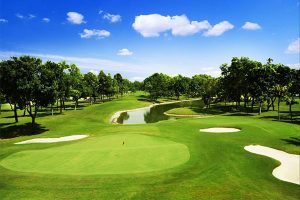 BRG Kings Island Golf resort
BRG Kings' Island Golf Resort at Dong Mo, Son Tay, Hanoi designed by the world's famous architects is rated as one of the most beautiful golf courses in Southeast Asia. There are two 18-hole courses, the Lakeside course and the Mountainview course. The Lakeside course has 14 holes bringing water into play. The Mountainview course leaves you breath-taking views of surrounding mountains.
King's Island Golf Resort features a clubhouse with an excellent restaurant serving a wide range of cuisines. There is also a bar, which is a great place to relax and talk about other golf courses in Vietnam after your round. In addition to golf, this golf destination also offers other activities including sailing and fishing on Dong Mo Lake, and swimming in the club's swimming pool.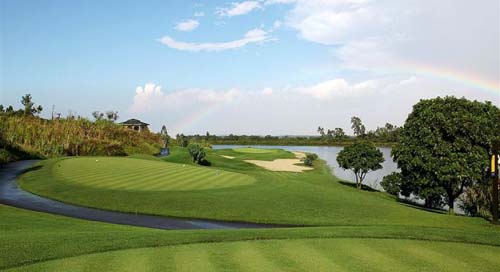 Sky Lake Resort & Golf Club, Hanoi
Located 45 kilometers from central Hanoi, Sky Lake Resort & Golf Club is the only Hanoi Golf Course that was awarded as both the best championship course in Vietnam and the 5th best course in Vietnam. There are two courses designed by a Korean architect, the Sky Course and the Lake Course. While the 18-hole Lake Course is quite challenging as it plays to 7,265 yards from the tips, the other 18-hole Sky Course surrounded mainly by unique natural Vietnamese forest is suitable for golfers of all levels.
Sky Lake resort is covered with stunning mountains and a large natural lake, providing a perfect getaway not only for golfers but also their families.
The Champion course at the 54-hole Phoenix Golf Resort located less than a 90-minute drive from Hanoi and was designed by Ron Fream. It is the largest pure-play golf facility in Vietnam and second largest in Asia. The three courses are named Phoenix, Dragon and Master. The Master Golf Course is a links-style open course, while the other two play in a more mountainous fashion. The huge clubhouse offers every modern convenience to golfers after their rounds.
Montgomerie Links, Danang is a stunning 7090 yard, par-72 golf course that was rated as one of Asia's ten most elite courses by Forbes Travel Guide in 2012. Reviews from golf writers and journalists around the world have been very favorable and The Montgomerie Links Vietnam is set to become a true icon of golf in Vietnam.
The place has outstanding natural features. The sandy soil, wind-blown dunes and indigenous vegetation combine in creating the framework for this links-style golf course along the Vietnam East Sea. Among the memorable holes are 7 and 13, a pair of par-4's with some of the deepest bunkers on the course. Montgomerie Links Golf Resort is, without doubt, one of the best golf courses in Vietnam.
Laguna Lang Co Golf Club is a part of Laguna Lang Co Resort and it was designed by Sir Nick Faldo. It consists of 18 coastal golf holes, located in a sandy dune area with the sea on one side and the mountains as a stunning backdrop. The Lang Co golf course can be enjoyed by the most experienced players and beginners alike. It has gained a reputation as the best of more than 25 golf courses which Nick Faldo has designed around the world. If you are a golfer in a Vietnam Golf Tour, don't forget to visit and experience Laguna Lang Co Golf Resort.
Located about halfway between Hanoi and the famous Halong Bay, Chi Linh Star Golf Course is one of the newest in Vietnam opened in 2003. It was designed by Independent Golf Course Services, a well-known Australian firm who have also completed golf courses around the world. Constructed in a beautiful valley on rolling forested hills, with several creeks, lakes, and natural water hazards, Chi Linh Star Golf Club features 36 holes of challenging international standard golfing. This Golf Club is the proverbial must play for a great round of golf.
BRG Da Nang Golf Resort, designed by Greg Norman, is recognized as one of the 15 best new courses in the world by USA GOLF magazine. The course was built on the rolling sand dunes that are typical of this part of Vietnam near My Khe Beach. It's sometimes difficult to recognize where the course ends as the course blends so beautifully with the surrounding countryside. Fairways are generous and there is a restrained use of water and no out-of-bounds.  There are also a modern clubhouse and extensive practice facilities.
Located 30 minutes' drive from Danang, Ba Na Hills Golf Club has since received various awards including "Vietnam's Best Golf Course," "Asia Pacific's Best New Golf Course," and the great "World's Best New Golf Course."
The course sits at the foot of a towering mountain range, on a hilly piece of terrain covered with lakes, streams and lush vegetation. Beside the course's standout features are its flexibility and its stunning views. Designers have also created floodlights on the course, allowing for night golf. This 'World's Best New Golf Course'' has one of the most impressive practice facilities the country has ever seen.
Vinpearl Golf Nha Trang is situated on its own picturesque valley along an 800 meters stretch of pristine white sand. It is part of the Vinpearl Resort and is set on Hon Tre Island in a private cover of Nha Trang Bay, which is named one of Forbes Magazine's 30 most beautiful bays on earth. Designed by renowned IMG Worldwide, this impressive 18-hole, par 71 championship masterpiece is Vietnam's first international standard golf course, offering unique island golfing experiences with blue ocean views.
This golf course provides a challenging layout of 6787 yards stretching over 180 hectares, meanders through the valley along the lake and seashore with soothing breezes flowing through the palms. Most tees are elevated to give golfers an excellent view of the challenge ahead.  All levels of risks have been created to test both professionals as well as golf beginners.
Dalat Palace Golf Club is situated in the South-western highlands of Vietnam and was originally built by the French in the 1920's at the height of their colonial era. The city is 1500m above sea level in the temperate highlands, which makes it a perfect place for playing golf in a tropical country. The course is in excellent conditions and the greens are a delight to put on.  They have a beautifully restored clubhouse which dates back to the mid-fifties and serves excellent both local and international food.  Practice facilities are available as well. Although being known as the oldest golf course in Vietnam, it still remains one of the unique golfing experiences in Asia.
Located just 20 kilometers from the center of Ho Chi Minh City, Vietnam Golf & Country Club is widely regarded as Vietnam's Premier Golf and Country Club. It is also the nearest 36-hole golf club to the city.
There are two great courses: The West Course and The Par 72 Championship Course, which both set among 300 hectares of land. The West course first opened in December 1994 and was designed by Taiwanese architect Chen King Shih. The Par 72 Championship Course hosted the Vietnam Open (Asian PGA Tour Event) in both 1995 and 1997. The course winds its way through the trees offering challenging tee shots to the tree-lined fairways before playing to the softly contoured Bermuda TifEagle greens, which provide beautiful putting surfaces all year round.
Located about 125 kilometers from Saigon City Centre, Vung Tau Paradise Golf Resort is the first seaside golf course in Vietnam. It was designed by the Taiwanese and offers the players all levels of a real challenge.
The Paradise course is an ideal place to practice golf with full facilities. It is described as a unique style design which has an in-land feel despite being along breath-taking beaches with spectacular ocean scenery. Golfers are even more relaxed by nice and cool breeze from the sea.
The Bluffs Ho Tram Strip is Greg Norman's second golf project in Vietnam, following Danang Golf Club in Danang. Located 80 miles southeast of Ho Chi Minh City in Vung Tau Province, the course lies on a coastal plateau and holes are routed around seaside sand tunes. The stunning and majestic ocean views from many of the holes make this one of the most spectacular golf courses in the world. Moreover, the service includes a large restaurant with great views over the golf course and the ocean and luxurious locker rooms.
Vinpearl Golf Club Phu Quoc is a stunning golf destination which has been cut out of the forest. The three courses present the golfer with slightly different challenges resulting in a wonderful 18 holes regardless of which of the three 9's you choose to play. The service and facilities in the clubhouse are outstanding with excellent service that you need to experience. The female caddies are very well trained and offer great advice on how to negotiate the golf course. This is a really special course and if they build the other courses in the area to a similar standard then Phu Quoc Island is sure to become a major golfing center.
Read more: