6 Best Things When Playing Golf in Vietnam
Vietnam is a country with a lot of natural beauty and different landscapes. The landscape is one of the best reasons why you should consider playing golf in Vietnam.
The most beautiful thing about playing golf in Vietnam is the fact that it is not only accessible but also affordable. You can easily find golf courses with low rates and great quality.
Golf courses in Vietnam are not only beautiful but also challenging for all levels of players, from beginners to professionals.
1. Caddies in Vietnam are wonderful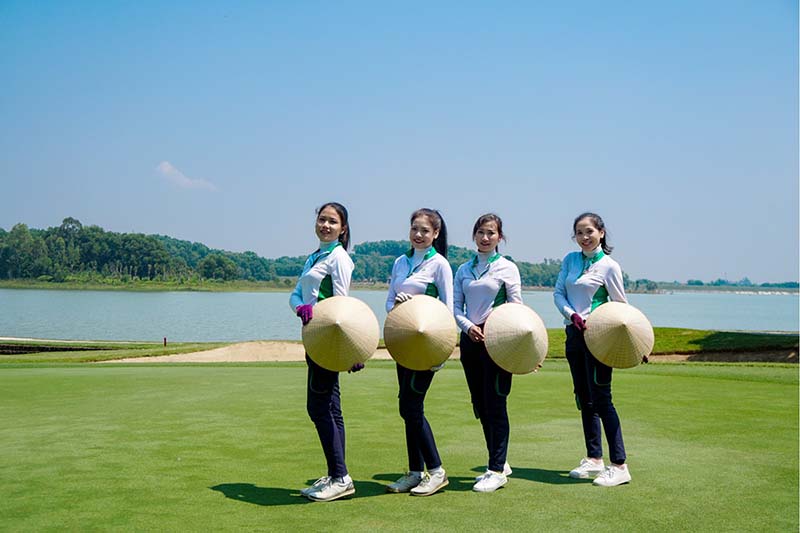 Foreign golfers will feel a little bit strange when they realize caddie is a must in each Vietnamese golf course. In many other countries, having a caddie in a game of golf is a luxurious thing and in most cases, golfers have to carry their golf clubs or hire a golf buggy. On the other hand, most of caddies are just part-time local students. Almost foreign golfers after playing golf in Vietnam said that they were impressed by the caddies in Vietnam.
Caddies in Vietnam mostly are women. They have the responsibility to consult their customers for the game. They also help golfers to carry golf equipment, take care of golfers such as swipe the clubs, pick up the ball, swipe golfers' sweat, etc.
Why is caddie a must in Vietnam? There is a story behind that. When the first 2 golf courses were built in Vietnam (BRG Kings Island Golf Resort and Song Be golf resort), many people had to leave their houses because of the courses' space. Therefore, the local government requires these courses to provide jobs for these people. Thus, citizens here were recruited to become caddies. So far, caddies have become an indispensable part in the golf culture and rules in Vietnam.
2. Vietnamese golf courses have a longer coastline than any other golf course in America or other places
The long coastline in Vietnam's golf courses is an exploited element compared to all golf courses in other countries. This unique point will make golfers overwhelmed and surprised. 
In central Vietnam, there are a lot of long beaches, and rolling dunes which create many beautiful golf courses such as Laguna Lang Co, Golf Montgomerie Links, BRG Da Nang Resort, and Vinpearl Golf Club,… These famous, breathtaking courses attract many golfers from Vietnam and other countries. Many of them were rated as the best golf courses in Southern Asia and in the whole world.
Three outstanding golf courses that must be named here are Montgomerie Links, The Dunes, and Laguna Lang Co. All of them were rated as the top golf courses in central Vietnam, featured by nature and the ridged terrains of white dunes on the East coastline. Moreover, they also achieved many rewards of quality and difficulty levels. Consequently, the courses attract a lot of famous golfers in the world and promise to bring the best experience for golf lovers.
3. The weather in Vietnam will easily satisfy the most difficult players
The unique geography in Vietnam creates a range of weather patterns, with both tropical and temperate regions. But in general, the ideal time to play golf in Vietnam is in the spring (February-April) and autumn (August-October). These periods of time will offer the best weather countrywide.
Weather in Hanoi and Northern Vietnam
Hanoi and Northern Vietnam have a cool to cold season (from November to March) and a warm to hot wet season (from April to October). December and January, in particular, can get quite frosty in the far north of Vietnam. The wettest months of the year in Hanoi are July and August; the driest ones are December and January. Generally, you can play golf in Hanoi and the North of Vietnam throughout the year and should be well-prepared before playing if it is in the midst of summer since it is hot, humid and the region experiences the highest rainfall.
Weather in Da Nang and Central Vietnam
The beautiful coastlines around Danang and central Vietnam are warm all year round with temperatures of 38⁰C (100⁰F) in July and August and then dropping as low as 18⁰C from November to January.  There is a little rain between February and July but from the beginning of August to early November the rainfall increases. Besides, the area is also prone to the occasional tropical storm. Indeed, you can have your Da Nang golf tour at any time in the year but the best time is from February to May.
Weather in Ho Chi Minh City and Southern Vietnam
Ho Chi Minh City is close to the equator, the weather here is warm with average daytime temperatures of 28°C (82°F). The season is basically divided into two types: the wet season and the dry season.
The wet season starts in May and lasts until the end of November. The rains stop in December and the dry season lasts until April, this time is the best option for you to play golf in Ho Chi Minh City.
4. The Government supports development golf in Vietnam
The government cares about the development of Golf Vietnam. Vietnam has many strategies to welcome players from over the world to visit and play golf in Vietnam. And golf Vietnam now has already attracted a lot of golfers by itself and it is predicted to develop quickly in the future. Golf Vietnam is evaluated as the fastest developing golf market in the world according to Forbes Magazine. Therefore, there will be a lot of investments to develop this market so that players can have a bunch of conveniences. Besides, with the stable politics players can feel more comfortable and safe on your Vietnam golf tour.
5. Many challenging golf courses in Vietnam will surprise you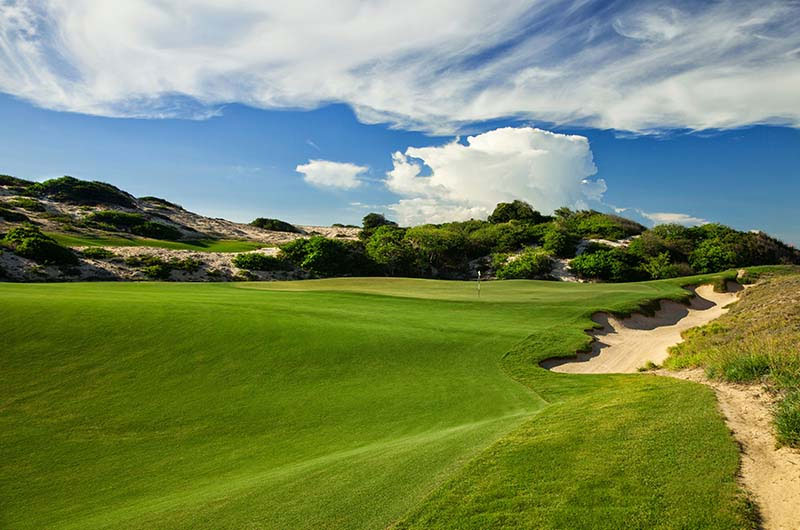 Golfers tend to try to find as many difficult golf courses as possible to achieve a new record. And many Vietnam golf courses can surely urge you to conquer.
A links course crafted over rolling dunes, it is not flat, with the highest hole raising 54 meters above the lowest points on the course. Amid the holes is a system of forests and pools that make it more challenging for players. Besides, this golf course is one of the most difficult golf courses not only in challenging design but also because of other factors such as wind and lighting conditions of each season. Even a professional golfer still runs into some difficulties when playing here.
BRG Kings Island Golf Club
The designer specializes in designing these challenging courses. He uses local terrain and natural hazards to build testing golf courses. Also, many hidden greens that require testing approach shots over water or swamps.
The Sky Lake Course provides members with championship-level golf and plays up and down through a series of lakes with mountains as backdrops. Most holes are routed over rolling hills. Golfers can witness scenic views overlooking the surrounding farmland from the clubhouse and from many points on the course itself.  Fairways and greens are undulated and follow the hilly contours of the area. The course is long and challenging as it plays up to 7,265 yards from the tips.
Clever use of natural surroundings and water makes this a tricky course. Water hazards are well placed ensuring that approach shots have to be well considered.
Golfers should beware of the giant tree front to the left of the green as shots with not enough distance tend will quickly get caught in the top branches. Equally challenging is the second hole on the back nine. The short par-4, only 353 yards, plays to an elevated island green with closely mown fringe and flanked by water on all sides. The hazard demands an accurate second shot, to avoid a watery penalty.
6. Many unique golf courses can bring the best experience for golfers
There are many unique golf courses in Vietnam that will bring an unforgettable experiences for every golfer when playing here.
Chi Linh Star and Golf Course
This golf course is considered one of the best golf courses in Vietnam and Southeast Asia. The golf course covers a large area of 325 hectares, locates in the heart of a beautiful valley with a natural lake nestled in the green hills. There are numerous paths around the small lake and across the hills, all with lovely views. Chi Linh Star golf course was built with 36 holes to AAA international standard, the greens and grass are carefully tended every day. This course is also very challenging because of the hilly terrain.
Dalat Palace Golf Club is in a delightfully peaceful location with rolling hills, majestic pines, and a series of lakes around ten of the 18 holes. It creates a very challenging championship-caliber golf course. The 6th hole is signature with its intimidating tee shot with water to the left and along a narrow fairway. The intimidation does not end there as it is a difficult shot to the green, which is surrounded by water and bunkers. This will be an enjoyable challenge for golfers of all levels.
Song Be Golf Resort was Vietnam's first international championship golf course. The 27-hole course is officially rated by the USGA (United States Golfers Association) requirements. There are three main courses – Lotus Course, Palm Course, and Desert Course. Each of them features different attributes reflecting its name in this tropical landscape. The three golf courses, each with a variety of difficulties, are suitable for golfers of any level. Among them, the Desert Course is considered the most challenging and demanding course even for professionals.
Read more: