7 Best Golf Courses & Resorts for Playing and Staying in Vietnam
Is it safe to play golf during the coronavirus pandemic? How to play golf safely during the COVID-19 pandemic … ?
Since the COVID-19 pandemic was declared in March 2020, many countries restricted many activities, including sport, while work was done to better understand and cut transmission of the disease
Golf can provide health-enhancing physical activity to persons of all ages and is associated with physical and mental health benefits. Policy-makers are encouraged to assess the benefits as well as the risks and work with the golf industry to permit golf when suitable control measures are in place. As an outdoor sport, where physical distancing is possible, risk of transmission may be low, players should maintain social distancing, use effective hygiene measures, wearing masks, reducing time indoors and respect all COVID-19 protocols put in place by golf facilities, the golf industry and local government. There is currently no published evidence regarding the rate of COVID-19 transmission when playing golf..
And to reduce risk, golfers are advised to play and stay specific golf clubs and resorts, this way we do not have to move out and contact with other people at public.
These are 7 Best Golf Courses & Resorts for Playing and Staying in Vietnam that golfers can refer.
1. Stay & Play packages – FLC Ha Long wonder golfing experience
Itinerary: Hanoi –FLC Halong golf club & resort – Hanoi
Distance: 160km from Hanoi and takes 2,5 hours driving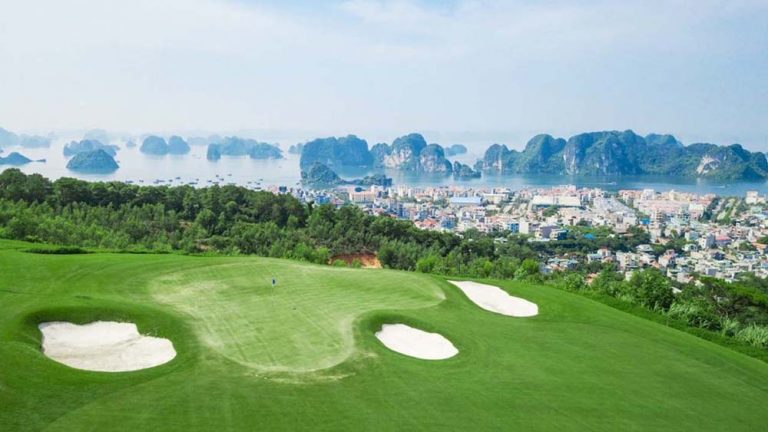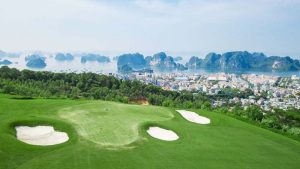 FLC Ha Long, 5-star hotel apartment buildings located on the top of the hill in the city center, is the most beautiful place to fully admire the natural wonder of Ha Long Bay. Located in the resort complex of Flc Ha Long bay golf club & Luxury Resort, Flc Grand Hotel owns top-class facilities such as an 18-hole links golf course, a 1500-seat international convention center, a 1000m2 four-season swimming pool. and Skybar with the highest bay view in the city.
Price is from 252USD
2. Stay & Play – SONO BELLE HẢI PHÒNG (Song Gia golf resort)
Itinerary: Hanoi – Song Gia golf resort – Hanoi
Distance: 115km from Hanoi and takes 2 hours driving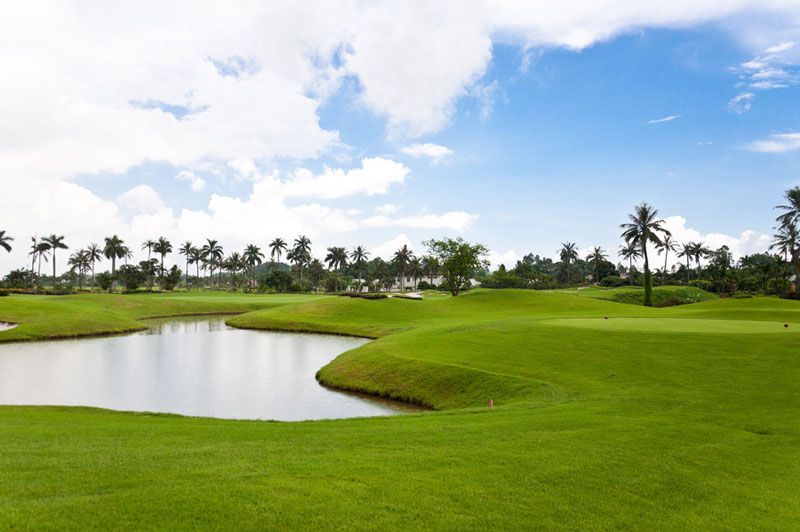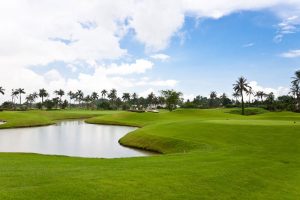 Song Gia Resort is surrounded by beautiful natural scenery between Gia River and Moc River. This place is proud of its peaceful landscape. Song Gia Golf Club appears extremely majestic and beautiful like a watercolor painting, attracting you to admire the golf course. We have a wide range of golf courses including the 18-hole Champion Course (Par 71, 7123 yards) and the 9-hole Executive Course (Par 29, 2000 yards ) which are maintained with dedicated training and care by our team. Thailand administrator.
Price is from 219USD
3. Stay & Play packages – FLC Sam Son Golf Links
Itinerary: Hanoi – FLC Sam Son Golf Links – Hanoi
Distance: 170km from Hanoi and takes 3 hours driving
FLC Luxury Hotel Sam Son is  located on the pristine Sam Son beach .  The hotel has 7 floors including 350 high-class rooms. Each room is designed including: living room, bedroom, bathroom, kitchen. With all modern amenities and class.
In addition, the hotel also owns the largest saltwater swimming pool in Southeast Asia. Covers an area of ​​up to 5100 square meters.
Not only impressive design, FLC Grand Hotel Sam Son also owns a series of outstanding facilities such as: Above All Pool Bar, Hot Pool, Cigar Bar, Roof Top Bar, Game House, GYM Room. …
Sam Son FLC Golf Course is an 18-hole link golf course and Club House area. Designed by the world's leading golf designer Nicklaus. With an area of ​​more than 7200 yards from the teeing point. This is the largest golf course in Vietnam and is expected to be a destination for golfers around the world.
Price is from 234USD
4. Laguna Golf Stay & Play packages – Laguna Lăng Cô
Itinerary: Danang (Hue) – Laguna Golf Lăng Cô – Danang (Hue)
Distance: 51km from Danang airport and takes 1 hour driving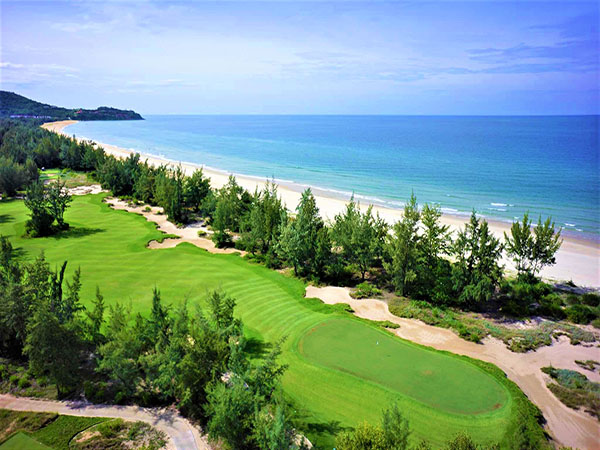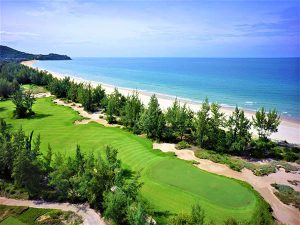 A leading world-class holiday and premium second home destination development in Central Vietnam by the Banyan Tree Group. The 280-hectare community resides near Lang Co Bay, framed by a three kilometre beach in the Chan May region overlooking the East Sea, an area renowned for its pristine coastline, natural scenery and proximity to UNESCO World Heritage Sites.
Laguna Lăng Cô is Banyan Tree's first foray in Vietnam, and echoes the ethos of Laguna Phuket, the company's flagship integrated resort community in southern Thailand. The development includes Banyan Tree and Angsana branded hotels, Laguna Park Townhouses and spas, an 18-hole championship golf course designed by Sir Nick Faldo, private villas and residences available for sale, convention facilities and a plethora of recreational activities for guests of all ages.
Price is from 172USD
5. Stay & Play – Montgomerie Links Danang
Itinerary: Danang – Montgomerie Links Danang – Danang
Distance: 17km from Hanoi and takes 30 minutes driving
Make Vietnam's most desirable golf and country club retreat your home. The Montgomerie Links Villas are located in an exclusive gated community, nestled within a private enclave on the award-winning Montgomerie Links golf course.
Situated between Danang and Hoi An, and only a short stroll to what Forbes Magazine describes as one of the ten most beautiful beaches in the world, this private community features just 66 pool villas available for sale. Tranquility and exclusivity are the key features behind the developer's concept. The boutique golf estate offers seclusion without isolation and easy access to nearby clubhouse facilities.
Price is from 220USD
6. Stay & Play packages – Swissbel Resort & Sam Tuyen Lam Golf Club
Itinerary: Dalat – Sam Tuyen Lam Golf Club – Dalat
Distance: 25km from Hanoi and takes 30 minutes driving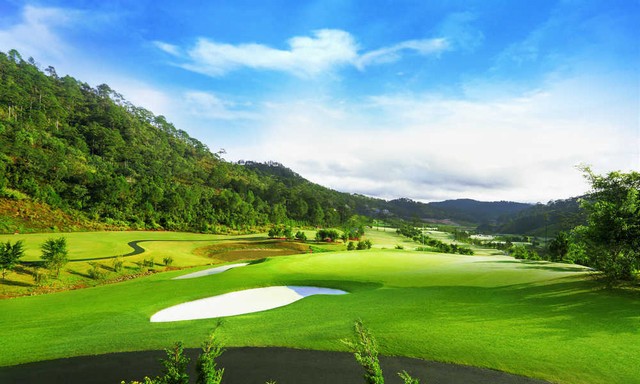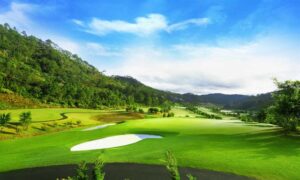 Sam Tuyen Lam Golf Club Settled in the east of Tuyen Lam Lake tourist zone (just 5km far from Da Lat City), Sam Tuyen Lam Golf Club (Sacom Tuyen Lam Golf Resort) is best famous for its heavenly natural landscape, which is highly inspirational for golfing and relaxing
Though Tuyen Lam Lake tourist destination is formerly for ecotourism, it recently gains big fame in world of golfers due to the eminence of the 18-hole Golf Course. Sacom Resort itself is designed to praise the beauty of nature in harmonious combination with manmade efforts creating 5-star hotel, villas, conferences, leisure areas, etc., which all give high-class services for tourists. Among various ways to reach this golfing destination
Price is from 182USD
7. Stay & Play at VinPearl Golf Phu Quoc
Itinerary: Phu Quoc – VinPearl Golf Phu Quoc – Phu Quoc
VinPearl resort Phu Quoc is on the Northern part, this area is relatively untouched due to its status as a UNESCO-listed national park. Vinpearl Resort & Spa Phu Quoc is 26km from Phu Quoc international airport. The resort is one of Vinpearl's most iconic properties for its signature bright-red tiled roofs that leave a vibrant touch alongside the ocean's cystal clear water. It boasts a private beach that spans 3.5 kilometres, and the largest swimming pool in all of Phu Quoc Island, over 4,864 square metres.
Vinpearl Golf Phu Quoc is surrounded by majestic woods and meandered through streams and across reservoirs , this is the first 27-hole IMG designed facility on the area of 1,000 hectares on the island . Paspalum grass was used throughout the course and produced excellent playing conditions with average speed greens. The rolling fairways weave and undulate seamlessly amidst the trees and the lake's contours, bringing you not only one of the most interesting golfing challenges but also a unique experience of Phu Quoc's natural splendor.
Price is from 169USD
Read more;