10+ Best Golf Courses In Southern Vietnam 2023
Vietnam is widely known not only for its majestic beauty but also for the spirit-rich of sports. Besides other common kinds of sport, golf as you can tell is one of the most beloved. Here we provide the 16 best golf courses in Southern Vietnam that you cannot miss when visiting the S-shaped country.
The Dalat At 1200 Country Club
Located in Da Ron commune, Don Duong district, Dalat city; The Dalat at 1200 golf course promises to create a "fever" for those who love golf balls in the beautiful plateau region. At 1200m above sea level, The Dalat at 1200 is designed by the legendary Asian golfer – Kyl Hla Ha with wide fairways alternating cool green terraced fields to create a medium-sized majestic scene. As the first standard 18-hole golf course with an Asian Golf Art Institute and a new clubhouse, The Dalat 1200 offers a new experience for both amateur and professional golfers.
The golf course also inherits a year-round dry climate of high mountains, enabling golfers to entertain for 4 seasons. Surrounded by 3 green pine valleys, this place has a cool weather even in summer. With a 30-minute flight from Ho Chi Minh City, and a few hours of flying from major Asian cities, The Dalat 1200 is truly a completely different golf course from other Asian courts and deserves one of the best golf courses in Southern Vietnam.
Sacom Tuyen Lam Golf Resort
Located in the romantic Tuyen Lam Lake area – Da Lat, Sacom golf course is built to international standards with a length of over 7,200 yards, striking as a charming green pearl to follow the footsteps of golf lovers and tourists coming to Dalat. The golf course is spread over 58.43 Ha and is a PAR 72 with 7035 yards this with bent grass greens and Bermuda Fairways, three half-way house, a club house with rooms and a Swiss-Bel Hotel. If you are looking for one of the best golf courses in Southern Vietnam to both play golf and discover the romance of the city, this course is for you!
Sea Links Golf & Country Club
Sea Links Golf, according to golf experts and leading commentators, is the most challenging coastal golf course in Asia. Ronald Fream, the executive director of Golfplan US, personally designed the 7,617 length from the last teeing position of this course. With 18 holes of golf, this course promises to bring a challenging and risky experience for everyone, whether you are a beginner or a professional athlete. Natural green fairways are covered with grass Sea shore (Salam) Passpalum, including the green field covered with Bermuda Tiff Eagle grass so that the player has a better ball feel. This is one of the best training ground in Vietnam with 22 remote practice positions and a short practice training range with sweeping views of Mui Ne bay. The distance training yard is 150 yards wide and 300 yards long, providing enough natural space for golfers to have a great experience.
Long Thanh Golf Club
This course is located in Phuoc Tan commune, Long Thanh district, Dong Nai province, 36 km from Ho Chi Minh City and has an area of ​​more than 350 hectares. The 72 sticks standard golf course with its 18 holes will bring professional golfers as well as new golfers to the fresh and exciting challenges.
With lush green grass, palm trees, artificial lakes, beautiful waterfalls and mountains, this area is such a wonderful landscape and climate for golfers and residents. Long Thanh golf course is considered the most beautiful and modern golf course in Vietnam.
Taekwang Jeongsan Country Club
This golf club is located on its island in Saigon river, Dong Nai province. Unlike majors of other golf courses, visitors can get here by taking a ferry across the Saigon river. The 18-hole course was designed by Golfplan – Dale & Ramsey Golf Course Architects from the USA, but owned by a Korean. The tips stretch out to over 7500 yards. This course belongs to the best golf courses in Southern Vietnam and is suitable for golfers who look forward to a relaxing round of golf when coming to Southern Vietnam.
Vietnam Golf & Country Club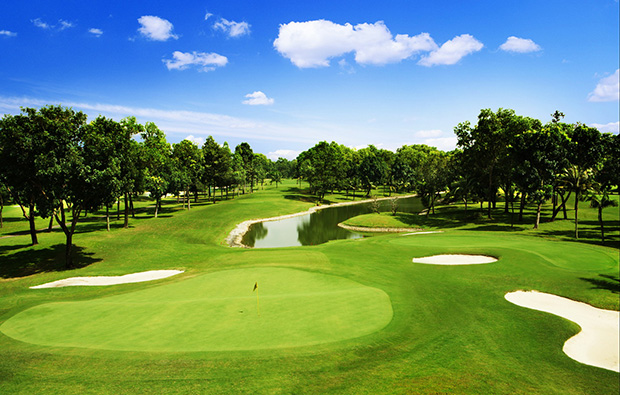 Vietnam Golf & Country Club
Located just 20 kilometers from the center of Ho Chi Minh City, Vietnam Golf & Country Club is widely regarded as Vietnam's Premier Golf and Country Club. It is also the nearest 36-hole golf club to the city.
There are two great courses: The West Course and The Par 72 Championship Course, which both set among 300 hectares of land. The West course first opened in December 1994 and was designed by Taiwanese architect Chen King Shih. The Par 72 Championship Course hosted the Vietnam Open (Asian PGA Tour Event) in both 1995 and 1997. The course winds its way through the trees offering challenging tee shots to the tree-lined fairways before playing to the softly contoured Bermuda TifEagle greens, which provide beautiful putting surfaces all year round.
Vinpearl Golf Club Phu Quoc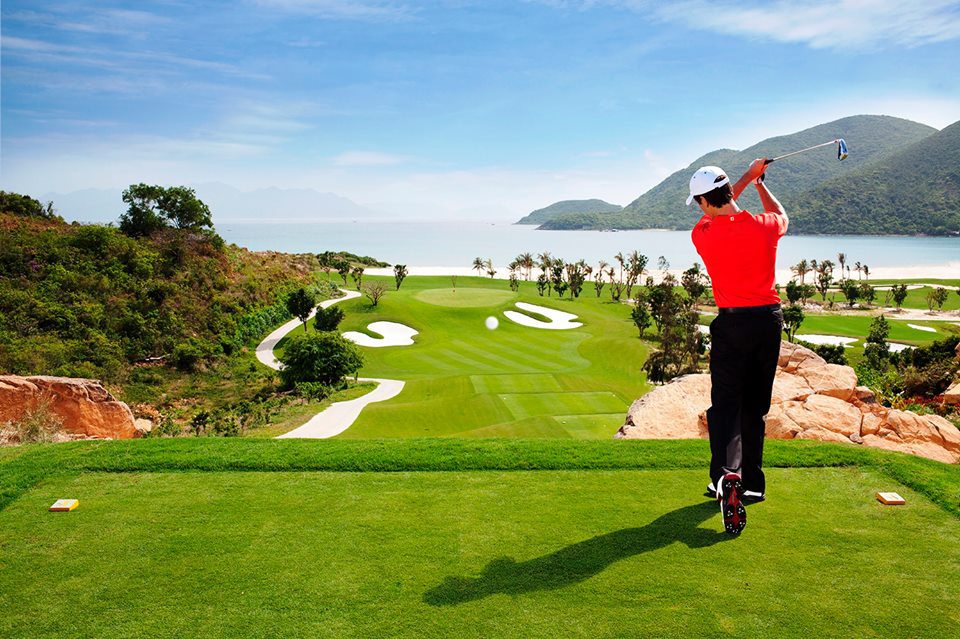 Vinpearl Golf Club Phu Quoc
Vinpearl Golf Club Phu Quoc is a stunning golf destination which has been cut out of the forest. The three courses present the golfer with slightly different challenges resulting in a wonderful 18 holes. The service and facilities in the clubhouse are outstanding with excellent service that you need to experience. The female caddies are very well trained and offer great advice on how to negotiate the golf course. This is a really special course at Phu Quoc Island – a major golfing center.
The Bluffs Ho Tram Strip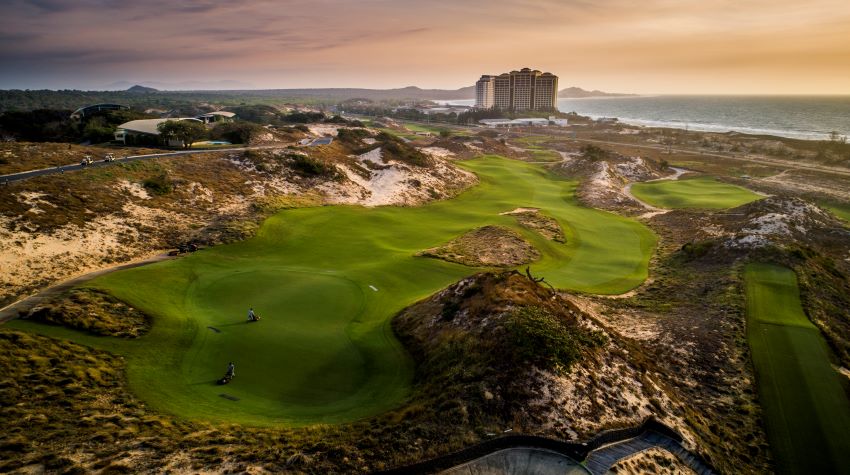 The Bluffs Ho Tram Strip
The Bluffs Ho Tram Strip is Greg Norman's second golf project in Vietnam, following Danang Golf Club in Danang. it is located 80 miles Southeast of Ho Chi Minh City in Vung Tau Province. The course lies on a coastal plateau and there are holes around seaside sand tunes. The stunning and majestic ocean views from many of the holes make this one of the most spectacular golf courses in the world.
Vinpearl Golf Club Nha Trang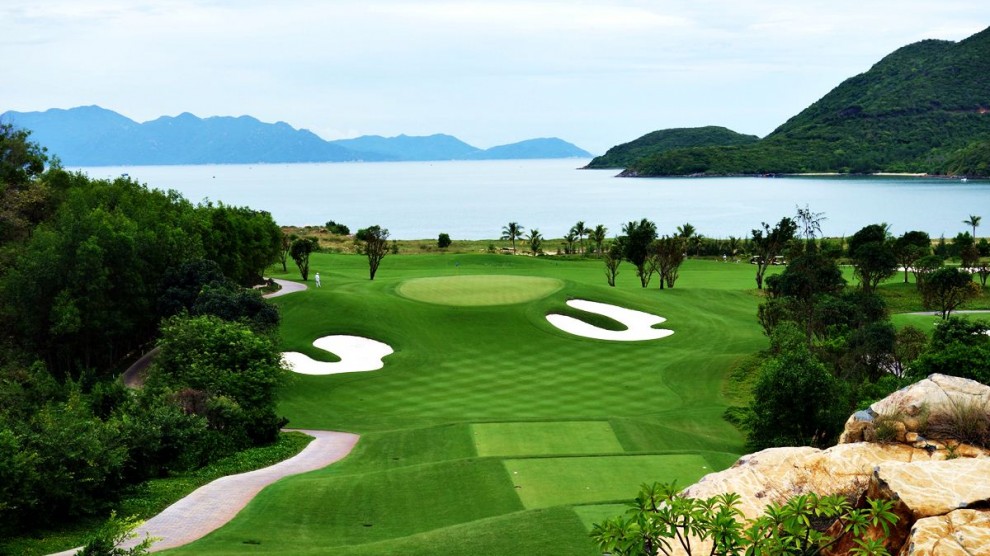 Vinpearl Golf Club Nha Trang
Vinpearl Golf Nha Trang is situated on its picturesque valley along an 800 meters stretch of pristine white sand. It is a part of the Vinpearl Resort, on Hon Tre Island. The course belongs to a private cover of Nha Trang Bay. This is also one of Forbes Magazine's 30 most beautiful bays on earth. Designed by renowned IMG Worldwide, this is truly an impressive 18-hole, par 71 championship masterpiece. This Vietnam's first international standard golf course offers you unique island golfing experiences with blue ocean views.
This golf course provides a challenging layout of 6787 yards stretching over 180 hectares. It meanders through the valley along the lake and seashore with soothing breezes flowing through the palms. Most tees are elevated to give golfers an excellent view of the challenge ahead. There are all levels of risks to test both professionals and golf beginners.
Diamond Bay Golf Course
Diamond Bay Golf Course
Located in the world's most famous tourist attraction of Nha Trang Vietnam, Diamond Bay Resort and Villas is a tropical paradise unlike any other. It's where majestic mountains meet sunny skies, where unspoiled white-sand beaches meet crystal blue waters.
Diamond Bay includes a beautiful resort and private villa accommodation, a large swimming pool, restaurants featuring international cuisine. With its unique scenery, it is one of the truly fascinating Vietnam golf courses. There is also an 18-hole championship Andy Dye designed golf course with an oceanfront driving range, state of the art practice facility and golf academy. The clubhouse is a 5-star with facilities and amenities that discerning golfers expect and appreciate. Along with excellent service, Diamond Bay Resort & Villas is a must-stay for golfers in the long list of Vietnam Golf Resorts.
Da Lat Palace Golf Course
Dalat Palace Golf Club
Dalat Palace Golf Club is situated in the South-western highlands of Vietnam and was originally built by the French in the 1920s at the height of their colonial era. The city is 1500m above sea level in the temperate highlands. Therefore, it a perfect place for playing golf in a tropical country. The course is in excellent conditions and the greens are a delight to put on.  They have a beautifully restored clubhouse which dates back to the mid-fifties and serves excellent both local and international food. Practice facilities are available as well.
Song Be Golf Resort
Built-in 1994, Song Be Golf Resort in Ho Chi Minh city was Vietnam's first international championship golf course. It has the course of a 3-Nine hole, the Lotus Course, Palm Course and the most challenging – the Desert Course. Each golf course owns its uniqueness and beautiful landscape with many lakes and natural bush reserves, especially the Desert Course. It has longer and narrower fairways with a complex of bunkers and an abundance of sand that requires accurate hitting. The golfers will immerse into the natural beauty of the scenery as they attempt to take the challenges. They are presented by the championship layout of 27 holes.
Song Be Golf Resort is also a walking course with female caddies. Golf carts are available for one or two golfers.
Dong Nai Golf Resort
Dong Nai Golf and Resort
Located 50km from Ho Chi Minh City, Dong Nai Golf Resort is one of the top ten beautiful landscapes. It is one of the most challenging golf courses in Southeast Asia as well. The resort owns an expansive 300 hectares in rural and lies next to a natural open lake. This offers distinct beautiful scenery around the seasons. The golf course features 3 standard Courses (A, B and C). The length of each course is about 3500 yards according to the measure from Tee. This is challenging yet provides a relaxing golf day for golfers.
Beside well-designed golf courses, Dong Nai Golf Resort offers many other activities. There are horseback riding, fishing, full spa sauna and massage facilities, and several international. If you're playing golf in Ho Chi Minh, Dong Nai Golf Resort should be on your list of golf resorts to stay.
Vung Tau Paradise Resort Golf Club
Located about 125 kilometers from Saigon City Center, Vung Tau Paradise Golf Resort is the first seaside golf course in Vietnam. It has a design by the Taiwanese and offers the players all levels of a real challenge.
The Paradise course is an ideal place to practice golf with full facilities. It owns as a unique style design that has an in-land feel. This course has breath-taking beaches with spectacular ocean scenery. Golfers are even more relaxed by the nice and cool breeze from the sea at this one of the best golf courses in Southern Vietnam.
PGA Ocean Golf Course Phan Thiet
Located 200km from Ho Chi Minh City; PGA Ocean Golf Course at Novaworld Phan Thiet is one of two 18-hole golf courses inside a 1,000-hectare integrated resort complex. Phan Thiet is famous for its blue sea, white sand, golden sunshine, and predictable climate all year round and is on the southern Vietnam coast adjacent to the East Sea.
Ocean Course is the first licensed Professional Golfers' Association (PGA) club in Vietnam. The Greg Norman signature design is a coastal style and plays to over 7,400 yards. Novoworld uses the latest grass varieties to ensure excellent year-round playing conditions.
Made with 100 per cent Zoysia and Primo Zoysia grass, which uses less fertiliser and requires less water, the Ocean Course has also been built with the environment in mind. All of which combines to ensure any visitor to NovaWorld is sure to have a truly exceptional golfing experience.
Read more: