Best Time to Travel for a Golf Holiday in South East Asia
Looking for the best time to go for a golf holiday in South East Asia? Well, you are at the right place.
Countries in this part of the world experience different climates since they cover a vast geographical area. This article dissects the various weather patterns of some of these countries in which also happen to be great golfing destinations and gives recommendations on the best times to travel there.
Malaysia
The country of Malaysia is made up of mainland Malaysia, Langkawi archipelago and the island of Borneo. These experience different weather patterns and therefore the best time to visit depends on the place you are looking to visit.
In mainland Malaysia, the cities of Kuala Lumpur and Melaka are the main golfing destinations. They are close to the equator and temperatures are more or less constant all year round, hovering between 20 to 30 degrees Celsius. While it could rain anytime in mainland Kuala Lumpur during the afternoons, the best time to travel for golfing is between the months of May and September. This is the driest time of the year where rains are less.
In the island of Borneo golfing activities are mostly concentrated around Kota Kinabalu. The weather here stays more or less the same all year round and hover around 30 degrees Celsius. The driest period is the best time to travel and occurs around the months of January and April when rainfall is less and temperatures are marginally lower.
The archipelago of Langkawi has a stable weather all year round. Temperatures range around 32 degrees Celsius with showers occurring mostly in the afternoons. The best to travel is between the month of December and April in which there are light rain showers and more sunshine.
Vietnam
Vietnam is a small country and is stretched from north to south through 3 different climate zones namely: the northern, central and southern zone.
The northern zone has pleasant golfing weather from October to December and from March to April when temperatures are very pleasant especially in Hanoi city.
The central zone has the best weather during the dry January to July, especially in Danang when rainfall is less and temperatures are pleasant.
The southern zone in the golfing hub of Ho Chi Minh City has the best climate from December to May. This is when rainfall is considerably low and temperatures around 32 degrees Celsius.
Myanmar (Burma)
Myanmar can be described as a country with a tropical monsoon climate characterized by high humidity, high rainfall rate, strong monsoon influences and a considerable amount of sun. It has three seasons namely:
The cold season from November to February has low humidity and warm pleasant temperatures during the day.
The hot season from March to May has intense heat in most of the country.
The wet season from June to October, during which time high rainfall can be persistent for long periods of time.
The best time to go golfing in Myanmar should be in the cool season between November to February. This is when temperatures are mild and rainfall is seldom. This also happens to be the peak tourist season.
Singapore
Singapore is a country characterized by a hot and humid climate where the weather is warm and humid all year round with rainfall in this part of the world almost an everyday phenomenon. The best time to visit Singapore for a great golfing experience would be between the summer and winter season. It is between February to March, the conditions are cool and pleasant. There is comparatively little or no rains to the other times of the year.
Thailand
While golfing in Thailand is a recent addition to its tourism package, the quantity and quality of golf courses, infrastructure, and support services that have come up have helped the country become one of the world's top golf destinations.
The best time to visit Thailand for golf is from November to March. This is when temperatures are lower and rainfall is less. The rest of the year is either too hot or extremely wet for comfortable teeing off.
Cambodia
Golfing in Cambodia is rapidly growing with five operational high-quality golf courses as well as others being under construction. This, therefore, means that players get to enjoy a wide range of challenging and quality venues.
It is an ideal time to go golfing would be between November to February in Cambodia. During this time, you can experience low humidity, cooler temperatures and very little rainfall. The rest of the year is either too wet or hot.
Indonesia
Indonesia is an amazing travel destination right from its geography with 1,300 islands making it up, historical sites, rain forests, and beautiful coastlines. Golf courses in Indonesia are popular in the major city of Jakarta and the island of Bali.
Jakarta has equator temperature average of around 30 degrees Celsius and do not fluctuate much. The best time to visit Jakarta for a golf holiday is from May to September. That is the time when there is low humidity and less rainfall.
The island of Bali is very close to the equator. This means that temperatures tend not to fluctuate much all through the year, averaging around 31 degrees Celsius. The island, however, has gotten  distinct dry and wet seasons which come at different times of the year. The best time to pay a visit to Bali would be during the month of June to September when humidity is low, air is cool & pleasant and rainfall is less.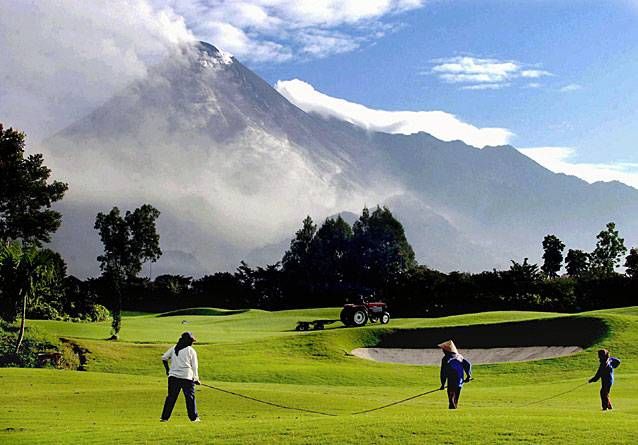 Golf holidays in Indonesia
You'd better know weather patterns of the various South East Asian countries well. This is the first step in making sure you have a great holiday. A golf holiday in South East Asia is also the time to not only experience some of the best golf courses out there, but also a chance for you to partner it with great resorts and hotels, fantastic food, shopping and the fantastic sandy beaches.