Coronavirus: Is It Safe To Play Golf in Vietnam in 2023?
Is It Safe To Play Golf in Vietnam in 2023?
All golf courses in Vietnam are now open to all local golfers, foreigners and expats stay in Vietnam
Since the start of the novel coronavirus (COVID-19) outbreak, Vietnam has closely monitored the situation and installed a series of proactive, comprehensive measures to combat the spread of the virus within the country and prepare its public health facilities. Past experience with other epidemics places Vietnam in a strong position to protect its population as well as visitors passing through.
Travelers in Vietnam may have questions about the spread of the virus in Vietnam, as well as which policies are in place in Vietnam. Below is a full overview of the COVID-19 situation in Vietnam as it relates to travelers.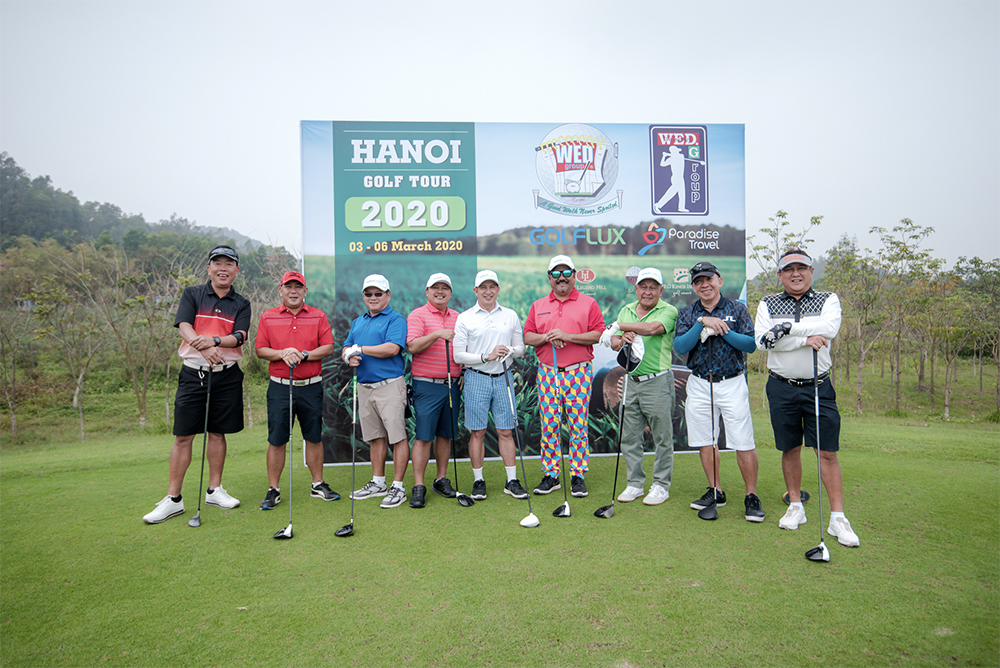 Current snapshot of COVID-19 situation in Vietnam
Vietnam welcomes international tourists and returning Vietnamese who meet the following conditions:
Present proof of full vaccination against COVID-19, with the last dose at least 14 days and not more than 1 year prior to date of entry.  Or present a certificate of recovery from COVID-19. The time between hospital discharge and entry date must not exceed 6 months.
Present a negative result from an RT-PCR/RT-LAMP-method test administered within 72 hours before boarding (from the time of test).
Have medical or travel insurance that covers COVID-19 treatment, with minimum liability at $50,000.  This is typically about USD 40. Contact your travel agent.
Present booking with an approved package tour program of a travel agency.
Hanoi – a safe place to enjoy your game 
From 14 October, Hanoi has relaxed many of its COVID-19 prevention and control measures. Social distancing rules remain in place and you should follow these strictly.
The rules include but are not limited to:
You should remain 2 metres from others, wear a mask and follow hand-washing guidelines
a ban on gatherings of more than 30 people outside of schools, offices and hospitals
When arriving in Hanoi you must complete a health declaration and provide evidence of a negative COVID-19 PCR test taken up to 72 hours before arrival. If you have been fully vaccinated you must have a test on day 1 and self-monitor for 7 days. If you are not fully vaccinated and are coming from a level 3 area, you must self-isolate at home for 7 days on arrival in Hanoi, self-monitor for 7 days thereafter and have 2 tests, on days 1 and 7. If you are not fully vaccinated and are coming from a level 2 area, you must self-monitor for 14 days and have 2 tests, on days 1 and 7.
These rules are liable to change. Check with local authorities / your travel operator before you travel.
Golfers can choose some Hanoi golf packages at this time to play golf and follow the rules of the Government to avoid the spread of Coronavirus. 
Da Nang – an ideal place to stay away from the Coronavirus
From 16 October Danang has reopened most shops, activities and services, although some may be limited.
The following provisions will continue to apply: Maintain social distancing, wear a mask, wash hands, no gatherings of more than 20 outside schools and offices, and complete health declarations.
Danang is safe now to play golf and other tourism activities. 
Besides, Da Nang always notifies visitors and citizens to stay alert and actively prevent COVID-19. The proactive actions of Da Nang will surely make you feel more comfortable. Taking a Da Nang golf tour at this time golfers will have the best experience with the nice weather and beautiful landscape while still can stay away from the Coronavirus.
Ho Chi Minh city – a place will bring safety for golfers
Restrictions in most areas of Ho Chi Minh City have eased. Residents who have been vaccinated at least 14 days prior, who have recovered from COVID-19 for at least 180 days, or who are under 18, may travel around the City. You should install on your phone the VNEID app registering your travel and the Y Te HCM app (recording vaccination status). You should also carry other proof of your vaccinations.
Most shops and many services are operating, with some restrictions. For many shops, including supermarkets, there may be restrictions on the number of people allowed to enter at a time. VNEID QR codes and/or health declarations, masks and temperature checks may be required to enter.
There may be local variations so you should talk to your landlord or local ward authorities or resident group (tổ dân phố) for details as to what restrictions are in place in your area.
The following provisions will continue to apply:
Maintain social distancing, wear a mask, follow hand washing guidelines and complete health declarations
Residents should ensure they have their medical declaration QR code with them at all times
If you experience COVID-19 symptoms you should report to your local Ward Response Team or call 115
In addition, the local Government in Ho Chi Minh did a great job in monitoring the epidemic. They conducted medical quarantine activities at train stations and airports in order to promptly detect suspected persons. That will make visitors and golfers feel a lot more relaxed when play golf in Ho Chi Minh city
Every Golf course in Vietnam Has Taken Effective Actions to Prevent Coronavirus for Golfers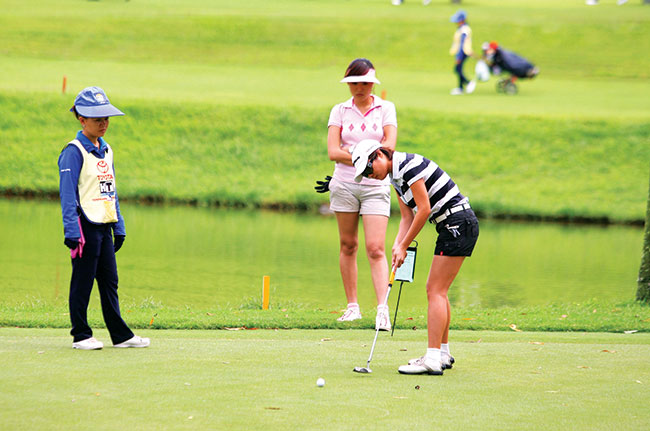 During this time, each golf course is always proactive and has effective actions to prevent Coronavirus so that golfers can have a safe space to play:
Organize training courses on prevention methods for all staff.

Provide golfers with hand sanitizers and masks before check-in.

The staff at golf courses need to check health status daily. They also have to wear masks when serving. Besides, they have to pay attention to caring and instructing the golfers to wash their hands when checking in and after playing, as well as wearing masks properly during the playing time.
In addition, it is also recommended that golfers should always improve their awareness of disease prevention for themselves and their families. Players should avoid going to crowded festivals, always wear medical masks when going out, wash your hands with soap and have a healthy diet to protect your health.
Confirmation About Secure Tourism in Vietnam of Vietnam National Administration of Tourism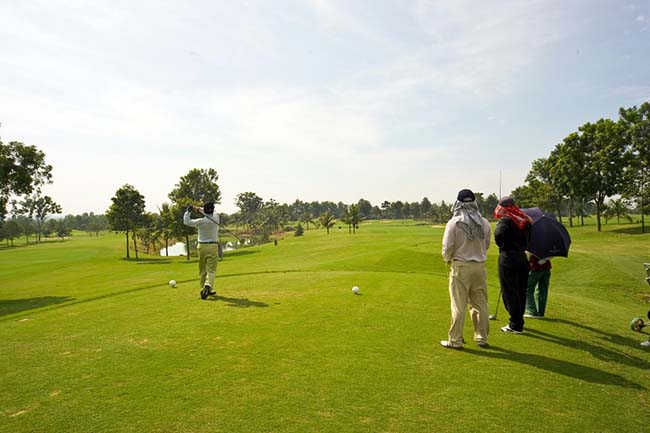 Here is Vietnam National Administration of Tourism's statement about Coronavirus in Vietnam for travelers or golfers who still wonder about Vietnam tourism safety in these days:
"At present, attractions, heritage sites and restaurants are still open for tourists as usual. Vietnam National Administration of Tourism has collaborated with local authorities and tourism enterprises to apply infection prevention and control measures aiming at protecting tourists. Numerous attractions are well-prepared to prevent the infection by spraying disinfectant on-site, giving free masks and enhancing hygiene promotion for tourists. 
During the time of the epidemic, tourism has to live up to its responsibility as an integral part of wider society and prioritizes people and their well-being. Therefore, we understand why some countries issued warning advisory for their citizens on travelling to certain countries and territories in Asia, where confirmed COVID-19 cases and isolate themselves 14 days after travelling to these destinations. Nevertheless, with the effective control of the Government of Vietnam and active prevention measures being implemented to all provinces and tourist attractions, we affirm that tourists visiting Vietnam at this time are safe."
All things considered, Vietnam is still a safe country for golfers and travelers. With the effective control of the Vietnamese Government and golf courses' proactive actions, there is no problem if you want to take a golf tour to Vietnam at this time.