Night Golf in Dubai: 6 Best Golf Courses to Play for 2024
Dubai's summers can be scorching, but that doesn't stop golf enthusiasts from enjoying their favorite sport. Thanks to the option of night golf, players can have a fun and relaxing time at some of the world's finest golf courses. With temperatures dropping to around 20° Celsius in the evenings, playing night golf in Dubai is an excellent way to experience the United Arab Emirates golf culture.
Best Night Golf Courses in Dubai
1. Montgomerie Golf Course
Designed by Colin Montgomerie and Desmond Muirhead, Montgomerie Golf Course features a 9-hole course that is fully equipped with floodlights and top-quality equipment. It is a highly favored option for a quick game of golf, with the added bonus of breathtaking surroundings. The golf course also boasts a lush, green putting range, and a full-fledged driving range where players can hit unlimited balls. However, it is important to note that the putting range is only open until 7 PM while the course layout opens until 10 PM.
Opening hours: 06:00 – 22:00 daily
Green fees: AED 120-180
2. Dubai Creek Golf & Yacht Club
Located just a 5-minute drive away from Dubai International Airport, the Dubai Creek Golf and Yacht Club is a popular spot for golf enthusiasts looking to squeeze in a quick game before catching their flight. The course layout is flanked by coconut and palm trees and sits adjacent to Dubai Creek, offering a unique and unforgettable golfing experience. The sail-shaped clubhouse is also a sight to behold as it is one of the most iconic landmarks in the city.
With night golf options available and fully equipped with floodlights, players can continue their game until 10 PM. This golf course is considered one of the best in the world and handles the largest footfall in Dubai. The food at the golf course is delectable, and the night golf experience paired with dinner is a must-try on your travel list. The last tee time is 08:15 PM, and the lights go out at 10 PM, after which you can relax and unwind at the bar, or swimming pool, or enjoy a scrumptious meal.
Opening hours: 08:00 – 02:00
Green fees: AED 100- 150
3. The Emirates Golf Club
Over the past few years, the Emirates Golf Club has gained popularity as the only 18-hole grass golf course in the city. Located in the heart of Dubai, the course sparkles under the skylight and strong bulbs emanating from the surrounding skyscrapers.
Playing at this golf course offers a truly Dubai vibe, with some holes situated near main roads and metro lines, allowing passersby to witness the game. Despite its central location, the Emirates Golf Club is known for being one of the quietest courses in the city, attracting a typically humble and older crowd. The last tee time usually falls around 09:55 PM, but it may vary depending on weather conditions.
Opening hours: 09:00 – 23:30
Green fees: AED 280 for 9 holes and AED 450 for 18 holes
4. The Track, Mayden Racecourse
The Track is a unique destination for night golf in Dubai, staying open until as late as 12:00 AM and catering to both young and old alike. Nestled next to the Mayden Racecourse, this golf course boasts a 9-hole layout designed by Peter Harridine and is perfect for beginners and tourists looking to experience night golf in the city.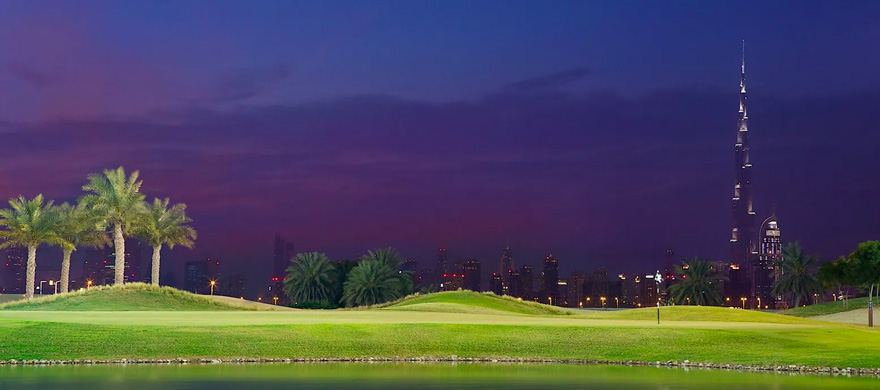 In contrast to the brown deserts, the lush green golf courses in Dubai attract large numbers of visitors of all ages throughout the day. Whether you're a tourist, a professional golfer, or simply looking to try your hand at the game after sunset, this golf course promises a fun-filled evening that is sure to leave you wanting more.
Opening hours: 16:00 – 00:00
Green fees: AED 100-120
5. Trump International Golf Club
If you are looking for a more challenging round of night golf in Dubai, Trump International Golf Club is a perfect choice. It features undulating fairways and demanding hazards that challenge even the most seasoned pros. The course opens till 10:30 PM with the last tee time at around 08:30 PM. However, only 9 holes of this course are floodlit and allow a night golf game.
Opening hours: 06:00 – 22:30
Green fees: Updating
6. Dubai Hills Golf Club
Dubai Hills Golf Club is fully floodlit, making it a perfect destination for night golf in Dubai in summer evenings. This course provides high-end facilities to hone your golf skills until 12:00 AM every day. Imagine how wonderful it is to play on a ground of lakes, wadis, and undulating greens that become stunning under the light.
Opening hours: 06:00 – 20:00
Green fees: Updating
Dubai Golf Holidays
Dubai has emerged as a popular destination for golf holidays, with its stunning scenery of towering skyscrapers and luxurious malls from around the world. It is no wonder that Dubai has been described as a "destination for luxury golf." Golf enthusiasts can expect exceptional treatment while enjoying the extravagant lifestyle that Dubai offers. With high-class golf courses, golf holidays in Dubai are a once-in-a-lifetime experience.
This city also offers a range of luxury hotels with golf courses, making Dubai golf packages increasingly popular. With fantastic weather and no rain delays, golfers can enjoy playing on championship-standard Dubai golf courses that are often used for professional tournaments.
For non-golfers, there are plenty of enjoyable activities to explore in the city. From the Palms Islands and Ski Dubai to Dubai Mall and Wild Wadi Waterpark, the options are endless. The surreal beaches also provide the perfect place to relax and unwind while taking in the breathtaking views of Dubai's skyline.
So now, are you ready to go on a golf vacation in Dubai and the United Arab Emirates, check out the list of all-inclusive golf holidays in UAE or contact us for a tailor-made golf break.
>>> Read more: Top 10 Best Golf Courses in the United Arab Emirates (UAE) 2023/2024