Best time to visit and golf in Thailand
Thailand can best be described as tropical and humid for the majority of the country during most of the year. The area of Thailand north of Bangkok has a climate determined by three seasons while the southern peninsular region of Thailand has only two.
– A hot season from March to mid-May;
– A rainy season due to the southwest monsoon, which generally runs from mid-May to October;
– A dry and relatively cool season from November to February, when the north-east monsoon, coming from the Asian continent, prevails. However, the relatively cool season is felt in the north and in inland areas, while on the coasts and in the south it's hot even in winter.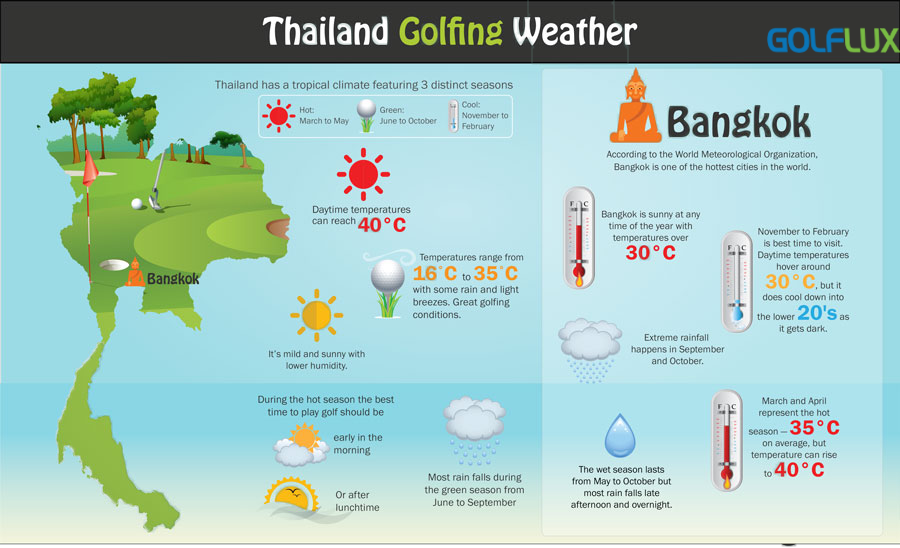 Duo to the weather, we will have the 'high' season and the 'low' season for golfing. And this determines how busy the golf courses are.
It is mild and sunny during the cool season with humidity being considerably lower than other times of the year. Average temperatures during this time of the year range between 35.5° Centigrade (96° Fahrenheit) to 16° Centigrade (62° Fahrenheit) with clear skies and light breezes. This provides great golfing conditions. The cool season is the peak tourist season and accommodation and the golf courses can be busy, especially in the more populated areas.
During the hot season, which begins between March and May, day-time temperatures can reach 40° Centigrade (104°Fahrenheit). However the increase in temperature is quite gradual so conditions remain quite pleasant. At the peak of the season, hot dry weather prevails throughout Thailand.
The best time to play golf during should be early in the morning, or after lunchtime, hence avoiding the hottest part of the day.
Most rain falls during the green season from June to October. While intermittent showers or thunderstorms occur at various times of the day, it is perhaps the driest rainy period of any country in Southeast Asia with plenty of sunshine. It is possible to golf practically everyday as rain showers tend to be brief and courses dry quickly.